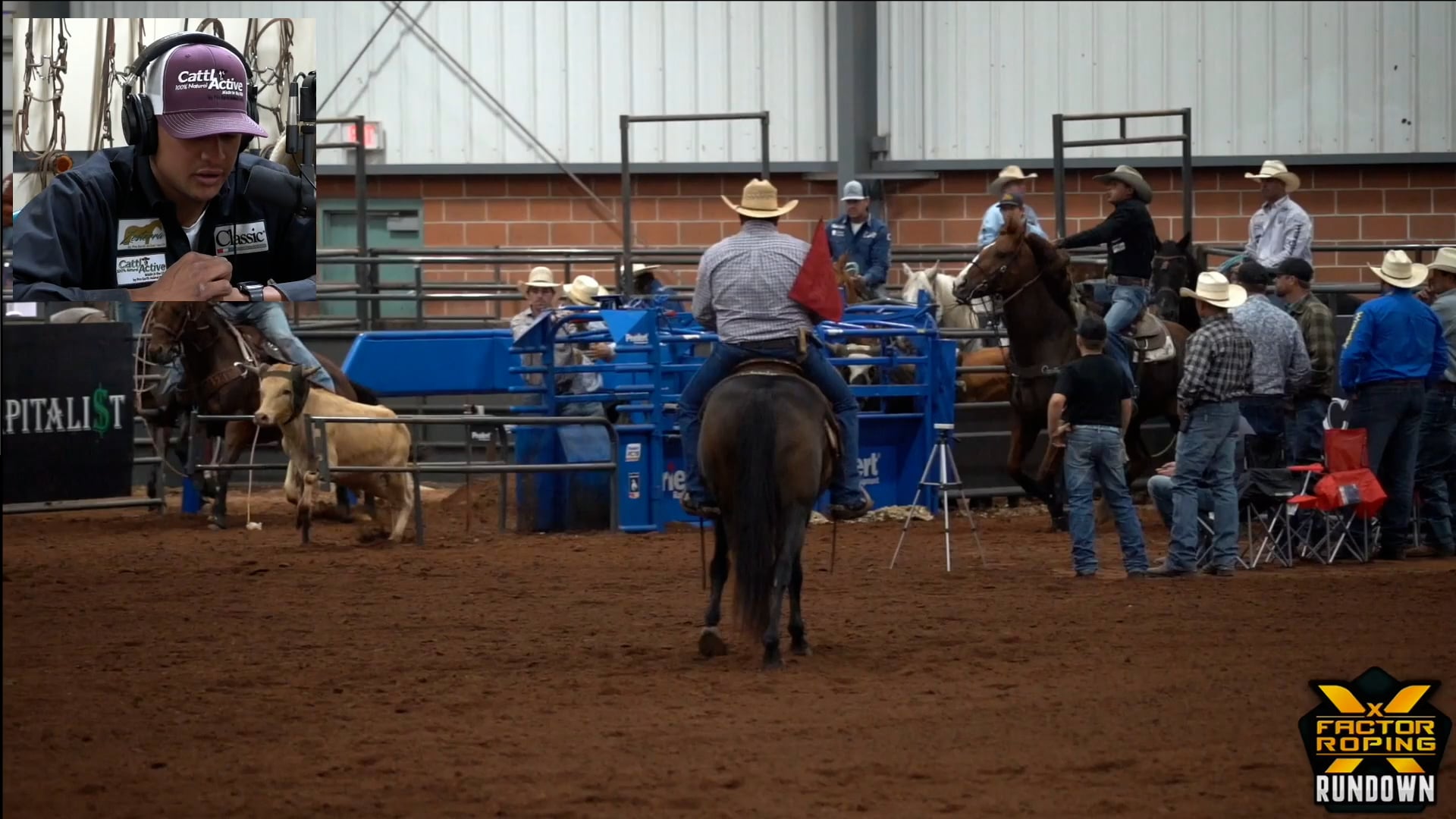 Start your free trial today and watch the full episode here >>>
JR Dees:
I've tried to make it where it's more simplified for me, where it's real open ahead of my horse to where I can throw at any time. I think a lot of guys, like myself, I get caught a lot trying to ride too much, especially on this horse, where I'm not ready to rope when it's time to rope.
So I think there's a happy medium in riding your horse across the line. But getting your rope up and having everything flat and ahead of your horse, where when it's time to rope, you're ready to throw. And on this horse, that's one thing that's really, really helped me out. Because I've learned that a lot in the last couple years, that he runs so hard that I have to be ready to rope.
Pace Freed:
Yeah.
JR Dees:
And when you're on a horse that doesn't do that, it's not as big of a deal because you don't ever feel that. I mean, you just kind of get up over him and can kind of reach, and it's easier to reach. On a horse that runs like this, you have to get your rope going and be ahead of your horse because they're running. Their stride's three strides to the steers one, it seems like on a horse like this.
Pace Freed:
Right.
Let's talk about the plenty of rope. Because I think that's something that, like you just said, if a horse doesn't have as much run, your tip would be higher because the steers are going to be a little bit further away. When I watch you pick your rope up, I would say it's pretty steep. Right there, in that swing right there. You can't throw from right there, right?
JR Dees:
Yes, sir.
Pace Freed:
So if you look where your tip is pointed, let's get a… if you want to try a little reference line, but I would say it's probably… Maybe draw an arrow from where you think your point of your rope side. I think, it's to the shoulders almost, right? I don't know, I'm kind of asking for me as well.
Can we talk about that though? That tip is pretty steep, if it's pointed to his horns, right there, or his back, it's hard to reach.
JR Dees:
Yes.
Pace Freed:
If you were to take him in that shot, it's probably not going to work where you have to go that another swing, and then that's the spot from where that one coil is. And that's basically where your rope starts every time on this horse. It's almost a predetermined shot because your horse is going to work like that, right?
JR Dees:
Yeah. If you watch, the whole time on that run those angles will never, ever change. And that's about what I try to do, is I try to get up ahead of my horse and get my tip down because he's going so hard. And I know that if my tip's too high up, then… Sorry.
So, right here. So if my tip is up, up here, flat and I don't get it down, well then, I got to change it to there. Sorry, I'm having…
Pace Freed:
No, that's good.
JR Dees:
I got to change it to there in one swing by the time I got to throw.
Pace Freed:
Yep. And if you come out of that swing, right there, and throw with your horse still running, that's that loop that goes right by the right horn.
JR Dees:
Yep, or behind it.
Pace Freed:
Yep. It doesn't… it goes over their head, by the right horn, it misses completely. And that's really all the… It's not a bad loop, it's just that tip of that rope is not in the right spot.
Pace Freed:
So, and I think that's one thing for a lot of World Series guys that really have a run. If you've got a good head horse and you want to figure it out, that's a great spot to pick your rope up to and then ride your horse to that spot. And don't fight your tip from the beginning, just get your rope right where you want to throw it from.
Now, it can limit you if your horse doesn't run or you get a steer that's a little bit tough. And that's where rope talent and skill might have to come into play a little bit. But when you have a horse this good and you know the run is really comfortable, I think that is the deal.
JR Dees:
Yeah. This horse makes heading where you don't have to reach, you don't have to be aggressive, or do different, you just got to get through the course. And if you do a good job that day, you should win the roping because he's going to make it pretty… If I score the way I should score and get through the roping, and rope smart and rope sharp, there's no reason I don't win the first.
JR Dees:
The biggest things I've had on this horse is beating myself. Me and Sherwood, last year was in at the BFI and we had seven seconds to go to high callback. And I get a great start, should have been no longer than 6.5, and I run in there and didn't have my rope going and threw right behind the horns.
Pace Freed:
Right.
JR Dees:
And because I wasn't ahead of my horse, wasn't sharp, wasn't aggressive, and that's what this horse will do. I mean, you got to be ready to rope. I miss more because I'm not ready to rope, than I miss because I'm being too aggressive or anything else.