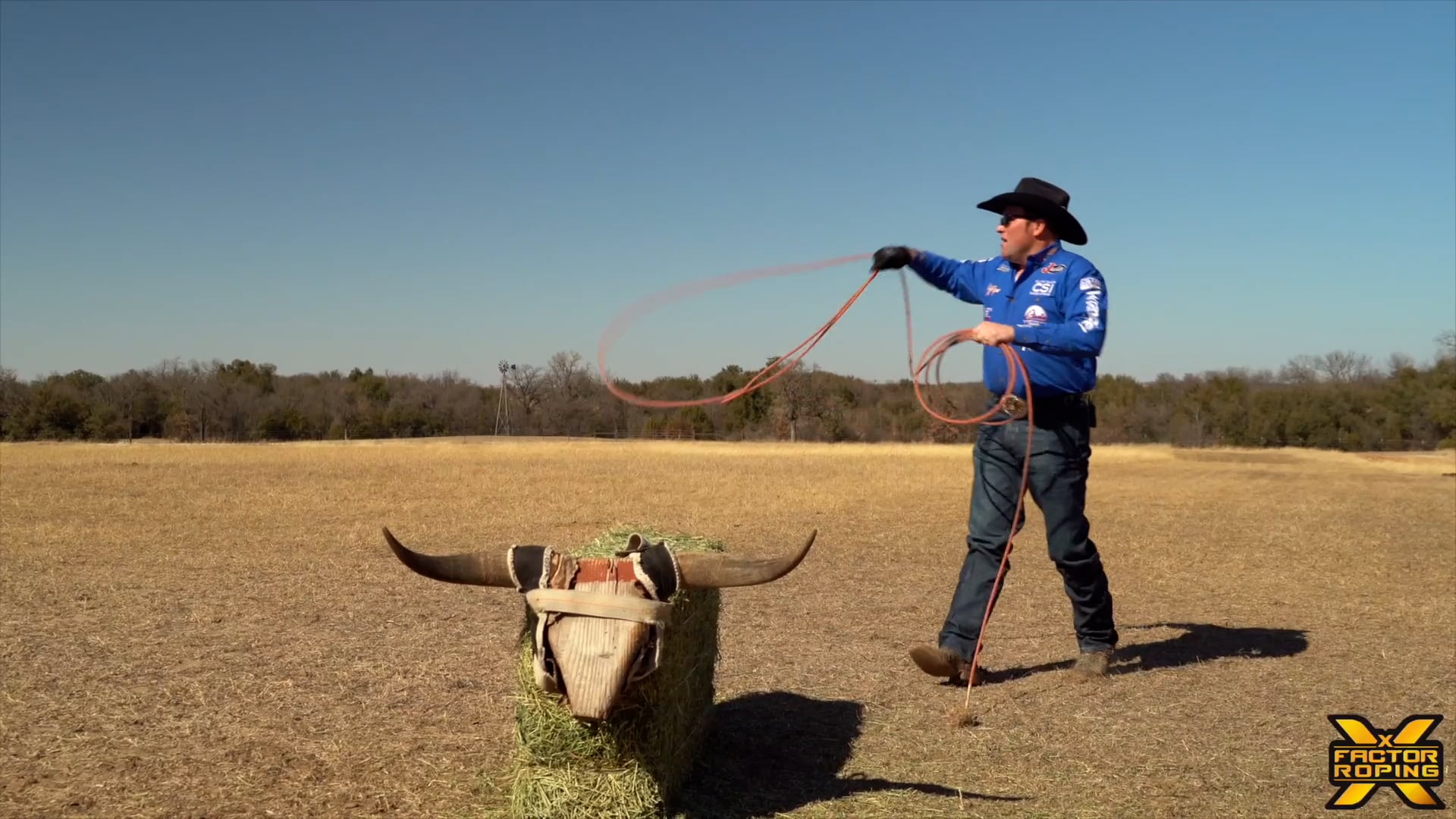 [Coleman Proctor] This is a little X Factor bonus. I love roping it without letting go. Rich Skelton's the first person I ever saw do that. Of course he does it on the heel side. I've never seen anybody try it on the head side. That's a lot harder than you think. When your angle's high, and you're used to rolling it down to the horns, it makes it very difficult to rope right to left. And then all of a sudden, if you'll drop it down, I call it give it my dad swing, down and to the right, now if my rope's vertical, it never splits the horn, always going across. And by vertical, I mean, my top strands up my bottom strands down.
So when you get in a situation, Billy Jack and I second high call back at the BFI, got 9.7, I don't know we had nine something to win it, and I can hear Speedy in the back of my mind, "High Teamer, got to be nine," thinking $40,000. Jake Long is high call. Not going to be able to get enough pressure on him, probably. So when I take off, the first swing is just over the gate, down and to the right. Because I'm running all the way in there. And I want to allow for when I get there, if he drops his head, if he does anything silly, my angle's got him covered, my delivery's got him covered. And as it worked out, got to him, right when I go to deliver, drops his head, steps to the right. Didn't matter, saw him off, 8.6, won $40,000. Never thought I'd see a poor day again.Woke up on Tuesday, realize that all happened Monday, time to start over.
But, one of my favorite drills to do, especially the beginners or anybody struggling with the angle of your swing, is to rope that thing without letting go, really let your rope tell you what's lacking. If my angle's good and my rope's vertical, I'm going to catch him. If my angle's bad and I have to roll my rope down to try to get to the horns, which is what you see with a bad… I'm not going to say a bad swing, with an incorrect angle, if it's high, you have to manufacture in your delivery, pulling it down to the horns. So it takes out the right to left factor, which is what we have to do when we get close. You can't rope these as effectively, both horns, same time when you're close. So I love it because it gives me instant feedback. If both strands go below the right horn, then obviously I didn't have it vertical. I came in a little too flat, didn't have my rope up and down.
Speedy would call that my margin for error. A lot of those, he's such an intelligent mind on what we have to have in these scenarios. Roping the horns, nobody's going to know more than him. So when he would talk margin of error for me, that's what I finally depicted it as, was that was a great shot, was top strand up bottom strand down. But just like that last one, if I've got it vertical, but a little bit too much vertical, almost tipping back the wrong way, then it gets blocked by the right horn. So that's a good way to get a good feel when you get close of allowing your rope to be vertical and using your swing to catch the horns.