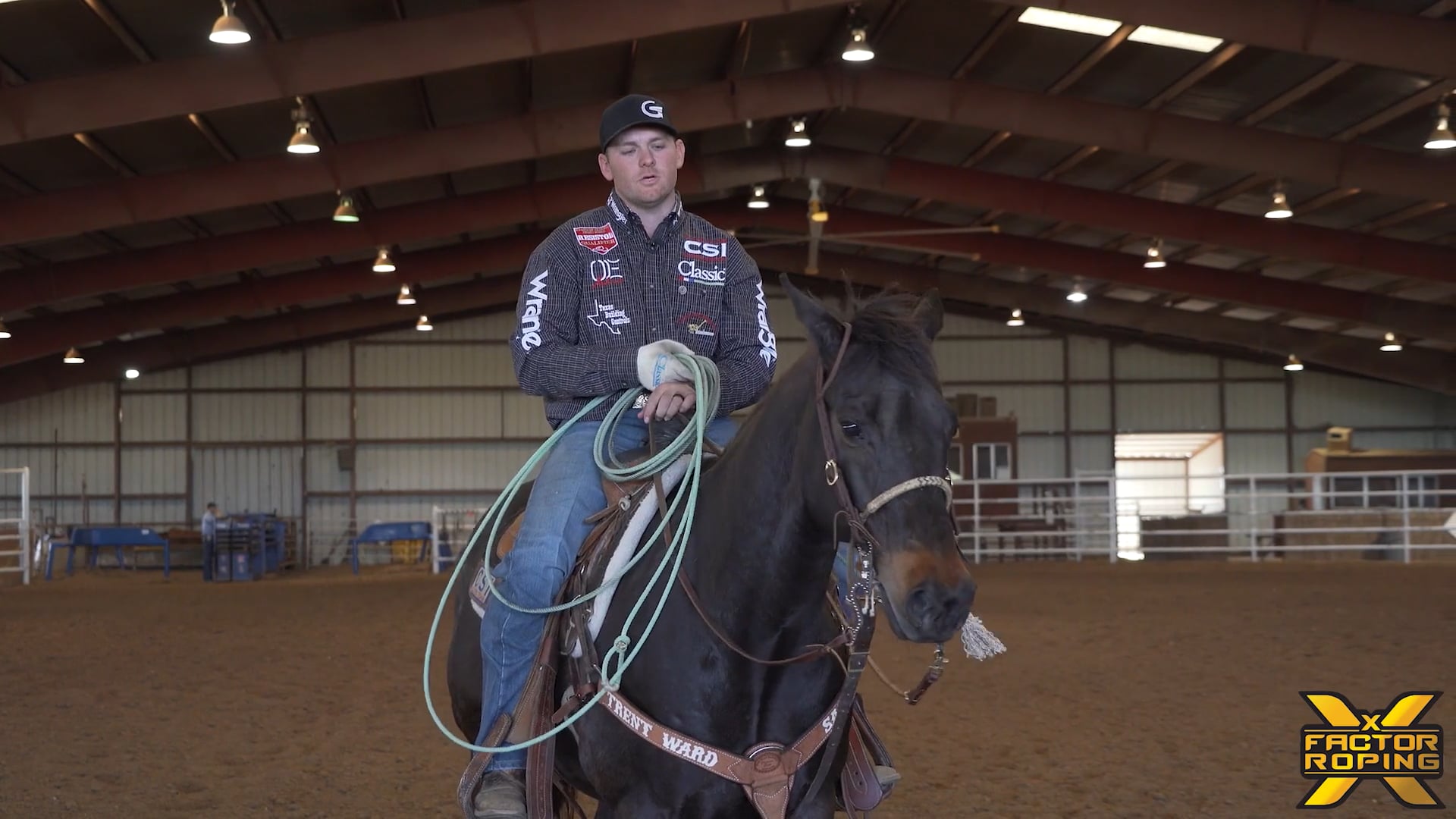 Tyler Wade:
So today I've had this horse for, I don't know, two weeks and I've never faced him. So I'm going to show you some drills to get going and to get started learning how to face your horse and get him started in the right way.
The main thing that I focus on for me in facing is my right leg. So I want them to feel this pressure on my right leg to come around and keep their hips moving to come into a right circle right here, and just loosen their hips up. And this way, they're pushing into the rope. The whole time, they're pushing into the rope. My left foot's out of him and just my right foot is making him respond. Nothing aggressive, but just keep holding that pressure. And then when you're done, got them headed in the right direction, just release it.
That's the first step of getting on face. Because a lot of guys, they want to start out just making them face right away. And they're not really understanding why or what cue does what. So when I turn the corner, I use my left foot to keep them pushed up and around the turn like this. And then when I'm asking them to come around, I ask them to bring their hip around, and with my right foot to face. So I try to make him understand what I want, just loping around and riding around and stuff.
So I usually keep my right foot in him, hold it. Because if they're not going to face while you're just warming up, they're dang sure not going to face when you're actually roping on him. So I kind of toy with him for a minute. And I'm going to go slow, and I might just a trot right here. Right foot help with my right rein. And then bring him into it and back him up.
And that's the best way to get started, I think, on slowly getting him to face the right way. When we start roping right here, I'm going to undally. I'm going to let my rope go. And then as I let the steer go, I'm going to keep moving my horse and help him with my hands too, to bring him around and doing it.
Obviously, if we can do it a little bit slower and consistently, he's going to figure it out and it's going to be a lot easier for him. But I see guys all the time that when they come here and try to show them this drill to face, the first thing they do is they pull backwards and they just kick and pull on them, and they don't understand what they're wanting. This isn't what I want from this horse. I want to help him by even coming out a little bit, using my right foot to bring him around and into the face.
And like I said, it's a slow process, but he's got to understand your cues and why you're wanting him to do what. It's probably not going to be very pretty right here at the front, but by the end of it, I think he'll get it. Slow and steady and easy, but he'll start to understand what we want.